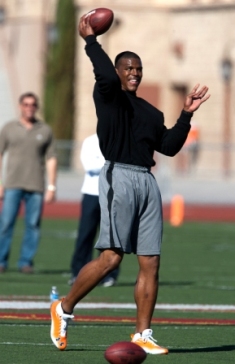 Posted by Eye on Football staff
INDIANAPOLIS -- Say this for former Auburn QB – and potential No. 1 pick in April's NFL Draft – Cam Newton: he's got a perfect sense of timing.
Immediately after what many described as a
disastrous news conference
featuring Arkansas' Ryan Mallett, Newton talked to a mass of media and, for the most part, came off quite well. Yes, he referred to himself in the third person multiple times, and yes, he read from a prepared statement at the beginning of his presser – some reporters found that a bit strange – but otherwise, he showed his charisma and parried questions regarding alleged off-field incidents with more grace than Mallett.
"My biggest thing is everybody has a learning process that they go through," Newton said. "For me, that learning process happened three years ago, the mistakes that I made Florida, the trials and tribulations that I went through at Blinn College, has made me the person that I am today."
The question that was most blunt occurred near the end of his presser when a reporter asked if he stole a laptop while at Florida and if he stole items out of a teammate's locker.
Said Newton: "Sir, I'm going to let you know right now what I did in the past is in the past. My sole focus is to perform at this year's Combine. I'm not going to entertain anything that happened in my past. I'm all about the future. I'm trying to prepare today to make my future as best as it can be."
He was also asked about his father, who has been accused of trying to sell his son's services for $180,000.
"My father is just like any other father that wants the best for his son. He wants to see his son succeed in every way possible."
But perhaps the most interesting aspect of the NFL combine for Newton this week is that he's planning to participate in all the workouts (including, gasp, throwing to unfamiliar receivers).
"My biggest thing first is to prepare for the NFL," Newton said. "I know it's going to be a challenging transition. I have been working out with three unbelievable coaches. During that time I felt as though I wanted to do something at the Combine. I wanted to come out here and compete, because that's what I feel like I wanted to do … have fun competing."
Yet, as well as he performed at his session with the media,
ESPN's Adam Schefter
writes that Newton wasn't perfect during one of his team interviews.
From Schefter:
According to the source, an NFL assistant coach questioned Newton about why he disobeyed his coach's orders in the BCS National Championship Game, when Newton ran a quarterback sneak toward the end of the game rather than take the knee that he was instructed. Newton was not expecting the NFL to ask him about the incident, and did not have a favorable reaction to it, according to league sources. He got defensive, and even referred to it Saturday. Asked about the interviews, Newton said, "Each and every team keeps you on your toes."
For more NFL news, rumors and analysis, follow @cbssportsnfl on Twitter and subscribe to our RSS Feed .