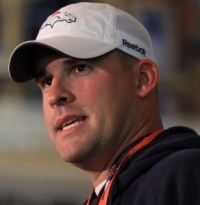 Posted by Josh Katzowitz
As coaches and players try to figure out a way to get around the "no contact whatsoever" rules they'll live under once the CBA expires, the NFL is cracking down on what they can and cannot do before the lockout occurs.
As reported by
Sports Illustrated's
Peter King, there were at least two instances when the league stepped in and foiled coaches trying to cram in last-minute instructions to players before the CBA is finished.
1)
Rams
offensive coordinator Josh McDaniels wanted to meet with players in February so he could talk about some of the changes he's going to make to St. Louis's offense, but, according to King, "the league told the Rams they couldn't do anything they wouldn't do under normal circumstances, and ruled that normal circumstances would have coaches and players not meeting 'til at least March."
2) Another team wanted to mail DVDs to players with reminders about how to work out in the offseason. Apparently, it would have been nothing more than technique reminders, but the NFL said no, because, as King writes, there is "too much of a chance for something like that to end up in a court case, if one ever were filed by the union, with the NFLPA saying players were being pressured by the team to work out during the lockout."
Basically, NFL players will have to be self-disciplined to work out during what could be a long holdout. Because the NFL won't allow them any help from their teams.
For more NFL news, rumors and analysis, follow @cbssportsnfl on Twitter and subscribe to our RSS Feed .