Posted by Andy Benoit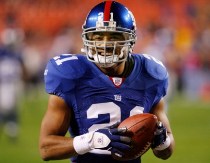 The best thing about Tiki Barber's return to the NFL? It gives a lot of his former teammates turned analysts (i.e. the outspoken Michael Strahan and Antonio Pierce) a chance to say what they really think of the guy.

Pierce, now an ESPN analyst, already kicked this off with his appearance on NFL Live Tuesday. The former Giants Pro Bowl linebacker disparaged Barber's leadership abilities.

"Tiki Barber, the football player, great player, will be very productive probably in certain situations," Pierce said. "Tiki Barber, the leader, the person in that locker room? He is not going to do anything for your team. Now if that is the guy you think you are bringing in, you might want to look in another direction."

He went on.

"From personal experience, he didn't do anything to help the Giants [in] 2006 when he decided to retire in the middle of the season and then months later question our quarterback and our head coach," Pierce said. "That is my problem with Tiki Barber … the guy can play. Can he do it four years later? I don't think he can."

And on.


"I didn't get a chance to get to know who Tiki Barber was the person," Pierce said. "I know him as a player and the guy was great and we always congratulate each other, the way we played."
"But what he did in that locker room my two years with him, he didn't do anything but deteriorate that team," Pierce added. "And he didn't help us out. I don't see this guy as a leader or somebody that can help you out. And that's my problem with him. That is why I believe they [the Giants] will release him because he is going to cause nothing but problems for that team."
For more NFL news, rumors and analysis, follow

@cbssportsnfl

on Twitter and subscribe to our
RSS Feed
.