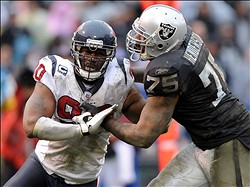 Posted by Josh Katzowitz
Texans
DE
Mario Williams
has been one of the league's best defensive ends the past four seasons, accumulating a total of 43.5 sacks, and he's accomplished it in a 4-3 scheme in which he was a major pass-rusher.
Considering new defensive coordinator Wade Phillips will implement a 3-4 defense, where the outside linebackers are the ones who score a plethora of sacks, you'd have to wonder if Williams would have to play more standing up in the second level of the defense rather than with his hand in the dirt on the line of scrimmage.
According to Phillips, Williams has nothing to worry about.
"I think Mario fits in well with what we're going to do," Phillips told the
Houston Chronicle.
"He's a five-technique, an outside rush guy. That's what he is. I don't see any difference for him. He's going to be outside all the time."
Phillips' version of the 3-4 is a bit different than the traditional 3-4 where defensive linemen have to control two gaps. Instead, Phillips' DL control a single gap and, instead of taking up the attention of the offensive linemen so the linebackers behind them can tackle and pass-rush, the defensive linemen are the ones who move up the field to pressure the QB.
Also adding to Phillips' decision to keep Williams in a three-point stance is that Williams actually isn't all that good when he rushes from a standing position.
"When they did stand him up, he took that false step every time, and that made him late on his rush," Phillips said. "You don't want him late on the rush. That's just fundamentals, something you have to work on. That's what happens when you have a player who's not used to standing up stand up.
"I don't think you need to stand Mario up. He comes off the ball so well with his hand on the ground I don't know that you'd ever want to stand him up."
For more NFL news, rumors and analysis, follow @cbssportsnfl on Twitter and subscribe to our RSS Feed .