Posted by Andy Benoit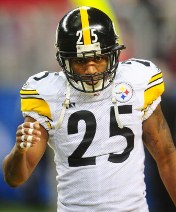 Adrian Peterson
had some
very harsh words
about NFL owners on Tuesday, but
Ryan Clark
may have done him one better. The
Steelers
safety (and respected player rep) recently spoke with KDKA-FM.
Steelers
Rapid Reporter Chuck Finder
passed along some of the quotes.
In the interview, Clark took a shot at hereditary owners, including his own. "The difference between us and the owners is, my daddy didn't give me this job. . . . When I leave this game, I can't give my jersey to [son] Jordan and tell him to play," he said. "There are going to be [the
Giants
'] Maras and Rooneys and all these guys forever who own these teams."
He reiterated that the CBA is all about money. "We're not going to play 18 games. That's not even part of why we don't have a CBA. You know if they get that money, they don't care if we play 14 games. That CBA is not getting done because of the money."
As for what he
thinks about NFL lead negotiator Jeff Pash and the league's proposal on Friday? "There were a lot of things that were brought to us ... it was just insane for us to think about taking. Pash actually just got on TV and lied [about financial statements and proposals]. I think it was extremely clever word play by an obviously deceitful man."
Clark said he wanted to apologize to fans but couldn't because the players were never even presented with a reasonable deal. "If there's a way we can play football and not be a victim of robbery, we'll be out there," he said. "But we can't make the owners come to us and give us a fair deal. It's something that has to be negotiated; it's going to take some time."
For more NFL news, rumors and analysis, follow

@cbssportsnfl

on Twitter and subscribe to our
RSS Feed
.