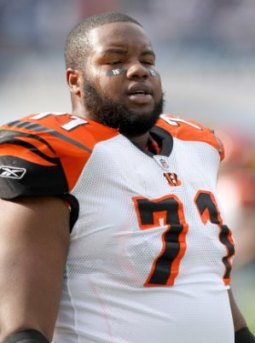 Posted by Josh Katzowitz
Bengals
OT
Andre Smith
is only the latest first-round draft bust selected by an organization known pretty well for its first-round draft busts.
Cincinnati selected Smith No. 6 in the 2009 draft, and despite his awful decision to run the 40 at his Pro Day without his shirt, the Bengals paid him a fortune to be the left tackle of the future.
That obviously hasn't happened, as former G
Andrew Whitworth
holds down that position in Cincinnati (and despite a lack of Pro Bowl recognition, does a pretty darn good job of it).
So, what to do about Smith, who signed a six-year, $42 million deal at the beginning of his career (with $21 million guaranteed)? After all, he's perpetually overweight, and he's perpetually hurting with injuries (the two aren't necessarily independent of each other). He's only made five career starts, and for most of his career, he's been behind
Dennis Roland
, a much-less talented but harder-working giant of a man.

ESPN.com's
James Walker floats an interesting idea.
According to Walker, the Bengals coaches are discussing the idea of making Smith a guard instead of a tackle. As Walker writes, "perhaps a move inside could help jump-start Smith's career. He's never had the prototypical body for an offensive tackle. His strength is his girth, not his feet or ability to move quickly in space. Therefore, his weaknesses won't be exposed as much at guard."
It's maybe not a bad idea.
But, even so, you have to question the Bengals scouting and drafting skills to move their future left tackle inside to a guard position. Well, unless, you're owner Mike Brown – then,
you cite an obscure stat about how your draft days are relatively successful
and go merrily on your way.
For more NFL news, rumors and analysis, follow @cbssportsnfl on Twitter and subscribe to our RSS Feed .