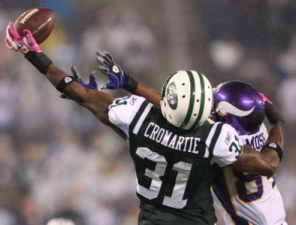 Posted by Josh Katzowitz
Andy did an admirable job Saturday of keeping track of all the letters and e-mails emanating from the computers of the NFLPA and the NFL owners that flew through the universe with reckless abandon.
There was
this letter
that the players wrote in response to
Roger Goodell's letter
from last week.
The players' letter then inspired lead negotiator Jeff Pash – who the players no longer even want in the bargaining room – to write
this response to the response.
Like most of you (and us),
Jets
CB
Antonio Cromartie
is apparently tired of all the back and forth. As he tweeted Saturday, Cromartie – who, at times, has been critical of the NFLPA's strategy – wants to see more progress between the players and the owners.

Wrote Cromartie:
"Im tired of all this emailing each other. How abt the owners and the NFLPA get ur behinds back to the table and talk it out there."
Then, he makes a pretty good point regarding the permanent injunction hearing next month that could end (or not end) the lockout:
"We as players r depending on t/ April 6th hearing which could go either way. Susan Nelson could side w/ us or keep t/lockout going then wht? … If judge Nelson keeps the lockout we lose all the leverage. So in others words bump April 6th ruling get back 2 the table and handle it."
Cromartie, on his timeline, also praises
Jaguars
Pro Bowler
Montell Owens
, who called Goodell's original e-mail
"heartfelt"
and declared that the negotiating table is where a deal will get done. This essentially agrees with what the owners, who clearly don't want to have to litigate this issue, have been saying.
So, you've got a mostly-unified NFLPA which has been resolute in bashing the owners' offer. But now you've got two players – one high-profile and the other a Pro Bowler – who are agreeing with the owners (at least on returning to the bargaining table).
The owners have to like that.
For more NFL news, rumors and analysis, follow @cbssportsnfl on Twitter and subscribe to our RSS Feed .