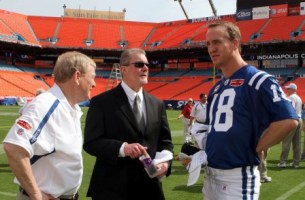 Posted by Josh Katzowitz
Colts
owner Jim Irsay will pay QB
Peyton Manning
the franchise tag fee of $23 million for next season, and the two were working toward a long-term deal that, by all indications, was going to make him the highest-paid NFL player in history.
Yet, the two sides couldn't reach an agreement before the NFL owners locked out the players, so for now, the contract is up in the air (and, depending on what happens with a new CBA, which might or might not allow franchise tags (though it probably will), where Manning plays next season also is up in the air. Theoretically, at least).
Irsay talked with reporters today in New Orleans during the first day of owners meetings, and when asked why the Colts couldn't get done a deal with Manning, Irsay responded by saying they needed to ask Manning's agent the same question.
"It should get done," Irsay said, via
Comcast Sports New England.
"If you ask me, it should have gotten done. You'll have to ask Tom Condon why it's not done."
Irsay has said in the past that he'll make
Manning the highest-paid QB in the world
(for now, that honor belongs to New England's
Tom Brady
, who got a four-year, $72 million extension), so assuming he's already offered a larger contract than what Brady got at the beginning of last season, you have to wonder how high the ceiling is for Condon and Manning.
Maybe Irsay is wondering the same thing.
"It should get done," he said. "I would have thought it would have been done already. But these things get done when they do."
For more NFL news, rumors and analysis, follow @cbssportsnfl on Twitter and subscribe to our RSS Feed.