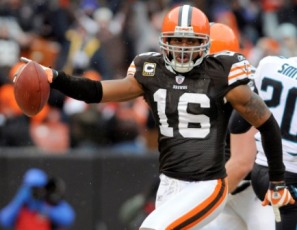 Posted by Josh Katzowitz
Browns
KR/WR
Josh Cribbs
is not a huge fan of
the new NFL rule
that will place the kickoff spot at the 35-yard line (instead of the 30-yard line). Not a huge fan at all.
Though the original proposal made by the NFL rules committee, which would have given a team the ball at the 25-yard line instead of the 20 for a touchback and would have eliminated the two-man wedge, was tweaked, Cribbs still wasn't happy.
From his
Twitter account,
he wrote: "NFL rule changes are BS... U not making the game safer u messing a great sport, trynna hide behind safety just to add 2 games...smh"
The reasoning behind the rule change – which was passed today at the NFL owners meetings in New Orleans – was for safety reasons. Kickoffs theoretically will be less dangerous now (though leaving in the two-man wedge lessens the original intent), because there will be fewer returns and more touchbacks. But Cribbs makes the claim that players will actually be harmed by the new rule.
"Essentially taking returners out of the game...injuries will still take place, then what move it up again, or eliminate it all together.." Cribbs tweeted. "Not just speaking for myself, but it affects the blue collar NFL players which are the majority who don't have big names, it extends careers."
Added
Bears
record-holding returner
Devin Hester
on his
Twitter account
: "Hey hey fans don't get mad about the new rule, my run back just going 2 be over a 100 yards now. I hate them 90 something yards anyway!!!!!!"
For more NFL news, rumors and analysis, follow @cbssportsnfl on Twitter and subscribe to our RSS Feed.