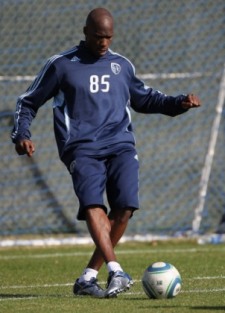 Posted by Josh Katzowitz

UPDATED (11:21 a.m.):
Maybe
Chad Ochocinco
has a better chance to play professional soccer than we thought.
According to
Ochocinco's Twitter feed,
he's been asked to stay in Kansas City a little extra longer and participate in the reserve game scheduled for Monday so the coaching staff can continue to evaluate him.
----------
The first day he participated in his tryout with the MLS' Sporting Kansas City,
Bengals
WR Chad Ochocinco looked like a guy who hadn't played soccer since high school (which is EXACTLY what Ochocinco was). And though the team went out of its way to proclaim that Ochocinco's tryout wasn't a media stunt, it certainly must have felt that way to the dozens of reporters in attendance.
But on his second day of trying out Thursday, according to the
KC Star
, Ochocinco had a much better day on the pitch, looking somewhat respectable.
He even got an ovation from his players when he chased down a ball from his forward position and sent what was called a "decent" cross that set up a goal opportunity for a teammate. He also, according to the paper, had an "adequate" cross later in a scrimmage.
"The game is fast for him, the play is maybe a little higher than maybe even he expected," said coach Peter Vermes. "But some things he's all right in and some things he's far behind in, just because he doesn't play on a regular basis."
While it seems Ochocinco is playing above some people's expectations, the fact he's making "decent" and "adequate" plays means he probably won't make the team. It's just unfortunate that, at this very moment, Ochocinco doesn't have another day job.
For more NFL news, rumors and analysis, follow @cbssportsnfl on Twitter and subscribe to our RSS Feed.