Posted by Andy Benoit

One of the ancillary issues in the ongoing labor strife is the treatment of retired players. The popular thing for both sides to say is that they're deeply concerned about retired players' benefits. Most retired players beg to differ.
George Martin, president of the NFL Alumni, has met with both the NFLPA and NFL owners. A few weeks ago, it was a story that Martin was unable to even get a meeting with the NFLPA. That has since changed.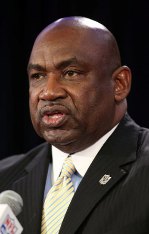 But Martin has still not received the one-on-one meeting with DeMaurice Smith that he requested. And from his last meeting he's not exactly thrilled with the NFLPA's attitude towards NFL Alumni.
Pro Football Talk obtained a memo
that Martin sent to the NFL Alumni's Board of Directors and 32 chapter heads in which Martin describes his meeting with the decertified union. PFT writes:
Martin said the "atmosphere was very defiant, accusatory, and outright disrespectful."
"Regrettably, the long awaited and greatly anticipated one on one meeting with Mr. DeMaurice Smith never materialized as I had hoped," Martin wrote. "Although he was present during my two hour interrogation, no accommodation of my request for the private meeting was ever addressed."
Martin had a much better experience with the NFL, according to the memo.
"On Tuesday morning, I had the pleasure of addressing NFL owners, executive staff, and head coaches as the NFL Annual Meetings," Martin said. "The genuine support and enthusiasm for our organization exhibited by these distinguished individuals was both exciting and overwhelming."
In its last CBA offer to the union before the lockout, NFL owners offered to contributed $82 million over the next two years to a new legacy fund for retired players.
The NFL claims
it has contributed over $350 million in pension funds for retired players over the past two years. There are still issues over the timing of these benefits (and, of course, the extent of them). Regarding the timing, players' coverage currently covers the years immediately following their career, rather than decades down the road, when most of their health issues that were fomented by playing the violent sport actually show up.
The NFL Alumni is upset that the union refused to continue negotiating with owners in the first place.
"Although (the $82 million sum) is not where we want it to be, it was a first start," Martin said at the league meetings earlier this week. "If the (negotiating) process had been allowed to continue, perhaps we would have gained those improvements in pension benefits."
UPDATE 2:57 p.m. EST:
George Atallah, NFLPA spokesman,
tweeted Saturday afternoon
: "It is upsetting that George Martin would make the details of his meeting with the NFLPA public. We tried to have a private dialogue."
For more NFL news, rumors and analysis, follow

@cbssportsnfl

on Twitter and subscribe to our
RSS Feed
.