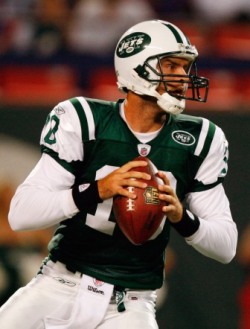 Posted by Josh Katzowitz
We broke this out already in
today's edition of Hot Routes,
but I didn't want you to miss some of the stunning revelations in Rich Cimini's piece (on
ESPN New York)
on
Jets
backup QB
Erik Ainge
, who's battling addiction and bi-polar disorder.
Currently, Ainge – who missed all of last season
after checking into a rehab facility
– has been sober since July 17, the longest stretch of a chemical-free body since the age of 11 (!).
The article is written in the words of Ainge, and he makes some compelling statements.
For instance: "My addiction is with the hardest of hard drugs -- heroin, cocaine and alcohol. During my days of using, I was a really bad drug addict. I would've made Charlie Sheen look like Miss Daisy."
And: "(M)ost of my rookie year, it was painkillers -- and lots of them. I was taking 25 Percocets at a time. Five hours later, I'd do it again. Another eight hours, and I'd do it again."
And one last one (because you really should read the entire account): "Did I ever think about killing myself? Let's put it this way: I've overdosed several times and had to be taken to the hospital. I don't know if you'd call that suicidal or not, but any time you overdose on drugs, you have to step back and think about why that's happening."
Also, read about how the lockout is affecting Ainge's recovery.
Like former Jets QB Ray Lucas – who
we wrote about last week
– here's hoping Ainge stays on the straight and narrow.
For more NFL news, rumors and analysis, follow @cbssportsnfl on Twitter and subscribe to our RSS Feed .