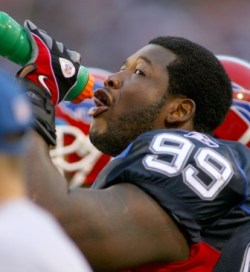 Posted by Josh Katzowitz
Playing the last three seasons with the
Bills
, DT
Marcus Stroud
has almost been an afterthought.
His first sevens with the
Jaguars
, Stroud – a former first-round pick – was a solid defender when he stayed healthy, and though his stats remained consistent while in Buffalo, the Bills were terrible, Stroud was playing in a new defense (he had to switch from the 4-3 to the 3-4) and he was thought to be nearing the end of his career.
Now that he's signed with the
Patriots
, though, he's hoping for a career resurrection. It's because he's seen players like Rodney Harrison and Bryan Cox arrive in New England on the downside of their careers and then find success with the Patriots.
"I've seen the trend," Stroud told the
Boston Herald
. "You have guys who are in the same situation I'm in, who some people may deem washed up or on his last legs. And then they end up going to New England and having a lot of success for another two, three, four years. That's what I'm looking at. I know how my body feels right now. It's just a matter of getting in shape and being ready. I promise you, I will do that."
Not all veterans find success with the Patriots (I'm looking at you Torry Holt, Joey Galloway and Adalius Thomas), and if Stroud really doesn't have much juice left in his body, the club hasn't committed much guaranteed money to him (though, according to the paper, he could make as much as $4 million during the next two seasons if he hits his incentives).
But remember the Bills no longer wanted him, cutting him for the benefit of younger players, and he
is
coming off shoulder surgery. Stroud remains confident, though.
"This definitely gives me a chance to go out and play and prove that I still got a lot of good years of football left," Stroud said. "I know how to play ball, and I know I still got a lot of good ball left."
For more NFL news, rumors and analysis, follow @cbssportsnfl on Twitter and subscribe to our RSS Feed .