Posted by Andy Benoit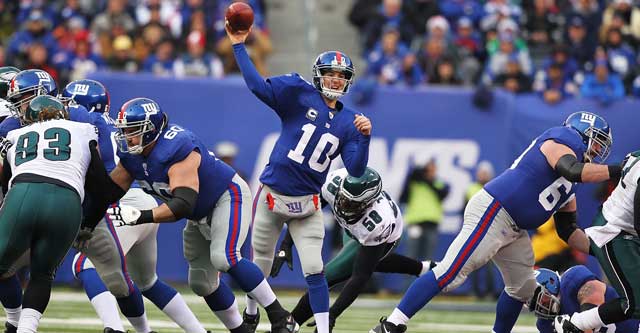 Eye on Football's playing doctor for every NFL team with our
Offseason Check-ups
.



Stop me if you've seen this one before: very talented, much talked about
Giants
team gets off to a fast start. At midseason they're 6-2 and looking like a legitimate Super Bowl contender. But in the second half, things start going south. There are rumblings about Tom Coughlin's job security.
Moronic members of the press who only understand football on a box score level see that
Eli Manning
is leading the league in interceptions so, predictably, they question him. (Never mind that Manning, who had one of the best seasons of his career, was plagued by receivers' drops and bad routes.)
There is a particularly heart-wrenching loss to the hated
Eagles
in Week 15 (apparently the punter not only kicked to
DeSean Jackson
but also singlehandedly gave up 28 points in the fourth quarter…right?), followed by what would turn out to be a playoff-hopes-slashing defeat at Green Bay the following week.
A change to consider: Antrel Rolle as the new Charles Woodson

The change here needs to be made by fans and the media. It's time to start recognizing Rolle as the Pro Bowl caliber rover that he is. Thanks to iffy linebackers, depth at safety and a schedule that frequently pitted them against three-receiver offenses, the Giants essentially converted to a three safety starting lineup in 2010. .
Rolle filled what used to be one of the outside linebacker positions. This was done because the former cornerback has the cover skills to line up against wideouts in the slot, but also the tackling prowess to play the edge on the run. What's more, Rolle is a terrific blitzer, which allows coordinator Perry Fewell to disguise his fronts. Sound like any particular Packer you know?
1. Middle Linebacker
Jonathan Goff
is not a bad player, but there is nothing electrifying about him either. This defense has a chance to be special. You can't be special with a banal force in the middle.
2 Receiving weapon

Steve Smith
's microfracture surgery (knee) leaves his future in doubt. The restricted free agent wideout will spend the entire offseason rehabbing and may not be ready come September. At tight end, the serviceable
Kevin Boss
is as tough as they come, but with the focus on vertical seam routes in Kevin Gilbride's system, a better athlete in this spot would do wonders.
3. Center
Shaun O'Hara made the Pro Bowl last season but strictly on name recognition. The 33-year-old (34 in June) missed all but six games with various injuries. When O'Hara did return to action, he looked creaky. Time to groom a replacement.
Ladies and gentlemen….your dark horse Super Bowl contender for 2011! The Giants have a veteran star quarterback, elite rushing attack (thanks in part to a cohesive offensive line) and defense loaded with talent along the front and back fours.
And most of these players have significant playoff experience. If this team can overcome the Big Apple drama that creeps up every year, it's as tough an out as any.
For more NFL news, rumors and analysis, follow

@cbssportsnfl

on Twitter and subscribe to our
RSS Feed