Posted by Andy Benoit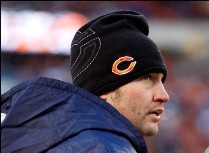 Aside from an unwanted cameo on TMZ, Jay Cutler has been incognito since his postgame press conference following the NFC Championship. The Bears quarterback stayed quiet amidst the din of criticism that followed his controversial exit from the game. He stayed quiet when the team revealed that he had suffered a Grade II MCL tear, which for most players is a 2-3 week injury. And he stayed quiet when it was reported that he received a pain-killing injection at halftime of that game.

On Thursday, Cutler was quiet no more. He broke his silence in an interview with the Chicago Sun Times . (Cutler was promoting the NCO Youth & Family Services "Fun Run" in Naperville, where in nine days he'll join 350 kindergarten age kids for a mile run; NCO's mission is to "provide life-changing services to youth through prevention education, counseling and shelter.")

Cutler was finally asked what he thought of the post championship game drama.

"I was gone, and I stayed away from it all," he said. "But I can't say it didn't bother me that people questioned my toughness and desire to play.

"I think I've been through a lot here in Chicago, and I would have loved to play."

Cutler said ultimately the opinion of his teammates is what matters most.

"Those are the guys you are with a lot of the time," he said, "and those guys didn't flinch. I've got to thank them for that."

Cutler's knee took about six weeks to heal on its own. He says he hasn't fully tested it yet.

For more NFL news, rumors and analysis, follow @cbssportsnfl on Twitter and subscribe to our RSS Feed .