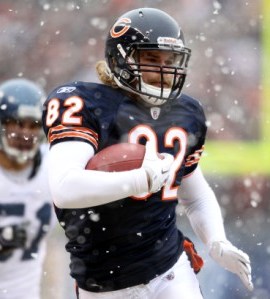 Posted by Josh Katzowitz
Like all NFLers,
Bears
TE
Greg Olsen
is locked out from his team's training facilities, meaning he can't work out in the weight room or run routes and work on his pass-catching on the field.
But here's how bad things have gotten for Olsen: he can't even practice on the local high school field.
"The other day I got kicked off a high school field trying to go out and do some field work, so it's not easy," Olsen said Thursday on "The Waddle & Silvy Show" on ESPN 1000, via
ESPN Chicago.
"You have to find your spots and find someone that will let you use their field.
"[Players] already have done some research on some different places, and maybe as it gets a little closer [to training camp] if it looks like that's what we're going to have to do not being able to go over to Halas, then we'll have to continue to look at different opportunities."
Olsen said he lives down the street from Stevenson High School in Lincolnshire, Ill., and he's used the school's facility multiple times. Recently, though, Olsen tried to work out but was kicked off the field. He tried calling school officials, but he never received a phone call back from anybody.
More from the story:
Stevenson public information coordinator Jim Conrey said it's school policy not to allow the general public on the facilities during school hours.

"Here's my understanding – I believe he showed up unannounced during the school day and tried to go out on the field while we were trying to have phys ed classes," Conrey said. "One of the phys ed teachers asked him not to go out on the field."

Conrey said Olsen "challenged" the decision.

"If he wants to give us a call and work something out, we'll see if we can accommodate him," Conrey said. "We understand he's in a tough situation with the lockout. We can't have the general public showing up and disrupting classes. Mr. Olsen said he was a resident of our district, and I'll have him on his word."
For more NFL news, rumors and analysis, follow @cbssportsnfl on Twitter and subscribe to our RSS Feed .