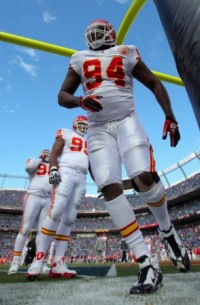 Posted by Josh Katzowitz
This will be the third draft for
Chiefs
GM Scott Pioli and coach Todd Haley since the two landed in Kansas City, and though the teams, without question, have improved (a 10-6 record last year as opposed to a 2-14 mark in 2008 is pretty dramatic, I'd say), there are still some questions about their decision-making on draft day.
Particularly when it comes to discussing 2009's No. 3 pick
Tyson Jackson
– who hasn't exactly played like a superstar the past two seasons and who was No. 5 in my
Top Ten list (with a Twist)
of overpaid players.
But in a predraft news conference, Pioli said he's not ready to give up on his defensive lineman.
"I look back to that draft and I would say that I think we do have a good player in Tyson Jackson," Pioli said, via
Arrowhead Pride.
"I know the jury is still out. We need to see that. I think everyone in our organization is pretty confident still that Tyson is going to be a good player."
Would he pick the same player again if he had it to do over again? Absolutely, he said. Absolutely.
Of course, Pioli and the rest of the Chiefs organization didn't have as much time on the 2009 draft preparation following Herm Edwards' firing and GM Carl Peterson's retirement after the season, cutting down the opportunities to see college players for Pioli and his organization. Now, though, Pioli says the club is coming together as a unit when it comes to scouting future players.
"I think if you're going to be good consistently,you have to continue to evolve and improve and get better in everything you do, "he said. "It's not just on the field. It's in player acquisition, the draft, free agency and managing the entire operation."
For more NFL news, rumors and analysis, follow @cbssportsnfl on Twitter and subscribe to our RSS Feed .