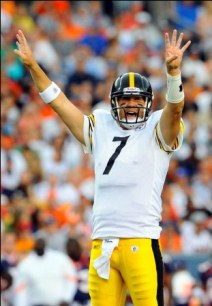 Posted by Josh Katzowitz
Will already told you about the pain
Steelers
QB
Ben Roethlisberger
feels every time
he steps foot into his bathroom
(and it's got NOTHING to do with kidney stones).
But I also found it interesting when Roethlisberger talked to the
Pittsburgh Post-Gazette
about when he might retire. Since he's been in the league since 2004 and since he'll enter his eighth season of competition, he figures he's about halfway home. Go for another eight years, Roethlisberger said, and he might be ready to step off the field.
"Sixteen years is a long, good career," Roethlisberger told the paper. "Eight years is long considering the normal life expectancy in this game. If I'm lucky enough and my body's still intact and that's what I'm supposed to do, I'll play as long as I can. I'd like to call it halfway."
Playing another eight or nine years would be a lofty goal for Roethlisberger. He's already made clear that he wants to win more Super Bowl titles than any other NFL QB in history (he's got two, and Pittsburgh's Terry Bradshaw and San Francisco's Joe Montana each have four), and it's not out of the realm of possibility that he could win three Super Bowls in the next eight or nine years (highly unlikely but not impossible).
But Roethlisberger also takes such a pounding each season – most of which is by design – you have to wonder if physically he'll get to play for that long.
Maybe getting married
will help his long-term health (doesn't science say that it does?) – even if it makes him a little bit crazier as a byproduct.
For more NFL news, rumors and analysis, follow @cbssportsnfl on Twitter and subscribe to our RSS Feed .