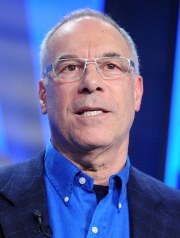 Posted by Josh Katzowitz
Sports Illustrated's
Peter King caught up with NFL Films' Steve Sabol in his latest edition of
Monday Morning Quarterback,
and the opening scene is a touching moment when Sabol bear-hugs King and thanks him – and his readers – for all their support while he undergoes treatment for a brain tumor.
It reads like an emotional moment, but not of sadness. Perhaps of hope, because for now, Sabol seems positive – even though it's unclear what his future holds.
A brief moment from King's story:

"I've got to ask you something morbid,'' I said.

"Good!'' he said. "Ask me anything!''

"What's the prognosis?'' I said. "Are you going to make it?''

"I don't know,'' he said. "I haven't asked. I don't want to know.''

But he did tell one of his doctors he had to make it until August, when the Pro Football Hall of Fame will induct his father, Ed, the founder of NFL Films. "You'll make it,'' the doc said. Talk about buoying Steve Sabol's spirits.
Some great stuff in the MMQB about heaven and about how Sabol's life has pretty much been exactly that. Give it a read.
For more NFL news, rumors and analysis, follow @cbssportsnfl on Twitter and subscribe to our RSS Feed .