Posted by Josh Katzowitz
It's been a given that, when talking about the average length of an NFL player's career, about 3 ½ years is considered the correct number. Since the lockout began – and in the leadup to the lockout – the NFLPA has made sure to get those figures out there to convince the public that the owners' desire for a new CBA is unfair (that's an oversimplification, but you get my drift).
In a recent conference call with
Chargers
season ticket holders, commissioner Roger Goodell said those numbers weren't accurate and, instead, claimed that the average was closer to six years for a player who "makes an opening day roster (as a rookie)" and closer to nine years for a first-round draft choice.
That's quite a disparity, eh?
Steph Stradley, who writes a fan blog for the
Houston Chronicle,
did some exploring to figure out how there could be such a difference, and she got the NFLPA to provide her with the handy chart you can see below.
"The NFLPA ran a report on the average number of accrued seasons (6 games on a roster in a season) for NFL players as of the first game of the 2010 regular season, and the average is 3.54 accrued seasons. Here is the report: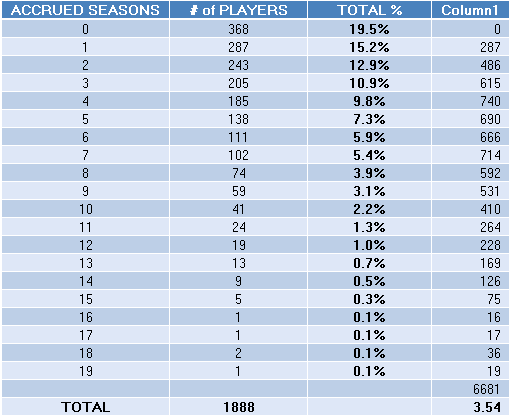 Obviously, the two sides aren't measuring the average using the same parameters. So, it's still hard to tell exactly what the average is. Much like everything else in the NFL, the two sides aren't exactly meshing and their disagreements continue to leave us a little bit confused.
For more NFL news, rumors and analysis, follow @cbssportsnfl on Twitter and subscribe to our RSS Feed .