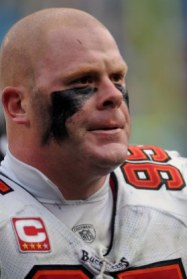 Posted by Josh Katzowitz
You and I might think it's utterly ridiculous if the
Buccaneers
let the off-the-field-challenged
Aqib Talib
return for yet another chance at playing in the NFL – of course, we'd also say that was simply the reality for one of the most talented cornerbacks in the NFC – but it sounds like former Tampa Bay and current
Rams
DT
Chris Hovan
is outraged by the matter.
On Thursday afternoon, he did a radio spot with WQYK (via
JoeBucsFan.com
), and he let loose.
A sampling of the transcript:

Chris Hovan: How many strikes does Aqib get? I mean, really? He beats up a taxi driver. He beats — I saw what he did to Torrie Cox by hitting him in the head with a helmet. I have never seen that before in my 15-20 years of playing football.

J.P. Peterson: He didn't do it on purpose…

Hovan: Yes he did.

J.P.: You think he did?

Hovan: Yes he did. He took his helmet off and he whacked him over the bridge of the nose. He knew what he was doing. He has been given too much leeway from Raheem Morris because, I guess, Coach Morris has favoritism towards him because he played defensive back. Again, they are giving this young man way too much leeway. Any other individual would have been cut way before this. But Aqib has so much talent — his talent goes through the ceiling. But you can't keep having these offseason issues and you can't keep covering for this kid. They are saying it's OK for what he is doing and he just pistol whipped somebody in Texas. I mean, how many times does ownership and management let this kid get off?
For more NFL news, rumors and analysis, follow @cbssportsnfl on Twitter and subscribe to our RSS Feed .