Posted by Andy Benoit

This is what happens when there's a lockout: schedules provide the only solid NFL news and thus, they get over-covered. But this year's schedules seem to have a few more interesting notes than usual. Here are some:
(Disclaimer: any criticisms here come with the caveat that I fully understand the NFL has a gargantuan task when it comes to scheduling 256 games, and that year in and year out, they do an A+ job of giving fans quality matchups at convenient times. Many unknown factors impact scheduling, making an outsider's idea of perfection impossible.)
Week 1 burnt games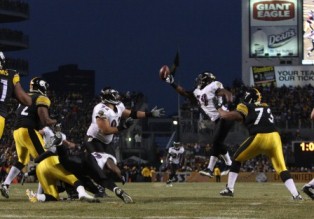 In Week 1 we have a Sunday night opener
Cowboys
@
Jets
. This game features perhaps the two biggest draws in the NFL and the Ryan Brothers storyline.
The question is, why burn this television gem in Week 1? It's the first full Sunday of the season – fans are excited enough for football at that point that they'll watch just about any game. So go with a solid divisional matchup (like Cowboys-Redskins last year) and save the unique TV gem for later.
But don't make it too solid of a divisional matchup. After all, you'd hate to see one of the greatest rivalries in sports be played in the season opener. Unfortunately, that's what the league chose by putting one of the two
Ravens
-Steelers matchups in Week 1. And in the unglamorous 1:00 window, no less.
What's more, Ravens-Steelers will coincide with
Bears
-Falcons, a showdown between the NFC's top two playoff seeds from a year ago.
Packers will feel like your family
No holidays in Green Bay this year. The Packers will be the first team in league history to have games on Thanksgiving, Christmas day and New Year's Day. The Packers also host the Thursday night season opener which, anymore, feels like a national holiday.
Eagles more at home than ever


Have you seen Philly's mid-season schedule? They have a Week 7 bye and then four of their next five games at home. What's more, the lone road game is at the
Giants
in primetime. New York (or Rutherford, NJ) is a 2-3 hour drive from Philadelphia, depending on traffic. If they so desire, the Eagles can stay at home the night before the game and drive to the Meadowlands in the early afternoon the next day. That would give the team an unheard of six straight weeks of sleeping in their own beds.
Primetime for most, but not all

Only five teams are devoid of any primetime games in 2011: the
Panthers
,
Bills
,
Cardinals
,
Bengals
and, for the first time in five years, the
Titans
.
For more NFL news, rumors and analysis, follow

@cbssportsnfl

on Twitter and subscribe to our
RSS Feed
.