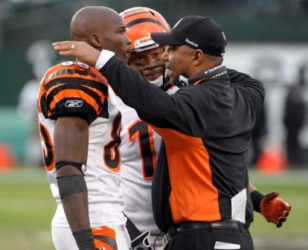 Posted by Josh Katzowitz
Bengals
WR
Chad Ochocinco
talks so much trash
on Twitter
– and in real life! – that it's hard to figure out* what he's joking about, what he's serious about, and what he's serious about but soon will be joking about.
*And sometimes, he's just moody and doesn't want to say anything at all.
That leads us to a couple tweets he tapped out today:
No. 1)
I love Cincy,but coach Lewis is mean to me now so I think I am gone :(RT @philpoling: @ochocinco sounds like someone wants outta Cincy? Lol
And …

No. 2)
He has gone over board to publicly chastize the one guy who loves him i'm so hurt RT @leegoettl: @ochocinco aren't most coaches mean?
Ochocinco, we must remember, is a child. A sometimes funny, sometimes maddening, but a child nonetheless (I've seen him catch a TD pass during practice and, in celebration, jump into the arms of a startled C. Trent Rosecrans (now of the
Eye on Baseball blog
) and I've seen him in tears after a regular-season loss at Jacksonville).
And when coach Marvin Lewis slams him in the media – which he has done quite a few times since last season ended – Ochocinco's feelings are legitimately hurt. The two have worked together since the Bengals hired Lewis in 2003, and they've been through many ups and downs together.
So, when Lewis makes fun of Ochocinco's reality show or about his soccer career, Ochocinco doesn't know what to make of it. So, he takes to Twitter and whines and talks about leaving the Bengals.
The reality is, Ochocinco is owed $6 million in 2011, and he probably won't be back because his pain-in-the-ass attitude isn't really worth it anymore. But it won't be because Ochocinco is the one making the call. Instead, Lewis will be the one escorting him out of the building.
For more NFL news, rumors and analysis, follow @cbssportsnfl on Twitter and subscribe to our RSS Feed .