Posted by Andy Benoit

There are many ways a person could rank the top draft decision makers for each NFL team. Among those criteria: team history of success; number of first-rounders who have panned out; the number of late-round gems discovered; consistency of the players developed within the organization.
But without a scientific formula, sometimes the best rankings can derive from a standard eyeball/smell/gut test. Thus, here is a ranking of all 32 "final draft decision makers" in the NFL.
Lists like these tend to attract criticism and rebuttals. Have at it -- this is meant to be a discussion starter.
1. Bill Polian, Colts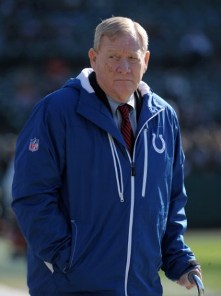 Sticks unwaverlingly to his formula: invest in a small handful of elite skill position players on offense and playmakers on defense, and then surround them with low cost youngsters who fit your scheme. In the 2000s he led the Indianapolis Colts to a Super Bowl win and annual division titles. In the '90s he ushered in the most successful expansion franchise in NFL history (Carolina Panthers) and oversaw the four-time AFC Champion Buffalo Bills.
2. Kevin Colbert, Steelers
Doesn't get much attention because A) he rarely does interviews; B) the Steelers are often drafting late in the first round and C) he's almost always looking two or three years ahead when drafting players, which minimizes the hype of Pittsburgh's rookie class. These methods have brought in guys like LaMarr Woodley, Troy Polamalu, Lawrence Timmons, Mike Wallace and Maurkice Pouncey to name five.
3. Ted Thompson, Packers
It took major intestinal fortitude to pull the trigger on Aaron Rodgers when Brett Favre was still on the roster and many believed the 2005 Packers were in position to "win now." Virtually the entire Packers Super Bowl roster this past year was comprised of players who were drafted by the organization and in their prime. That's perfect planning paying off.
4. Bill Belichick, Patriots
The best trader of picks the NFL has seen since Jimmy Johnson. Like an alchemist, he regularly turns one late first-round selection into two or three solid contributors who fit the Patriots' ever-changing system.
5. Mickey Loomis, Saints
Is batting about .750 with his high-round draft picks, and has managed to snag several small-school gems in middle to late rounds (See: Jahri Evans, Marques Colston, Jimmy Graham, who was primarily a basketball player at Miami).
6. Ozzie Newsome, Ravens
Simply has a knack for connecting on stars. His latest include Haloti Ngata, Terrell Suggs, Ray Rice and (maybe) Michael Oher and Joe Flacco. Because of good mid-round drafting, depth is generally a plus for this club. The only true black eye on Newsome's resume is the Kyle Boller pick, for which Brian Billick shares equal blame.
7. A.J. Smith, Chargers
Supposedly not the most likeable guy in the room, but that's in part because he has a gift for ruthlessly getting the most out of his resources. Part of that is replacing players a year too soon rather than a year too late.
8. Andy Reid, Eagles
Aside from Green Bay, Philadelphia is the only NFC team that has consistently drafted for the future first and the present second. Because of that, the Eagles are able to stay afloat when they do miss on a high-round pick.
9. Mike Holmgren, Browns
Jury is still out in Cleveland, obviously. But a person's track record has to count for something, right? And Holmgren's is pretty good.
10. Mike Tannenbaum, Jets
Home runs (D'Brickashaw Ferguson, Nick Mangold, Darrelle Revis -- who was a grand slam -- and possibly Mark Sanchez) outnumber strikeouts (Kellen Clemens, Vernon Gholston). Willing to be aggressive and trade up to get his guy. So far, it's worked well.
11. Jerry Reese, Giants
Has done a superb job building off the foundation that Ernie Accorsi put in place.
12. Thomas Dimitroff, Falcons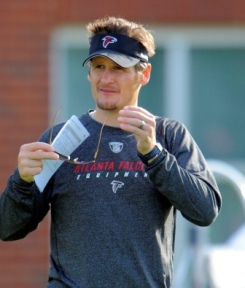 Ex-New England front office executive instantly turned the rudderless post-Vick Falcons around by nailing the Matt Ryan pick. Has since retooled the offense with solid role players and upgraded the speed on defense.
13. Mark Dominik, Buccaneers
Made the bold commitment for the Bucs to get younger on both sides of the ball. Already, those young players have turned out a 10-6 record, putting the team a year or two ahead of schedule. The decision to draft Josh Freeman one day could lead to a Lombardi Trophy.
14. Marty Hurney, Panthers
For the most part, Panthers have been consistently competitive for 10 years despite the absence of a star quarterback. How? Solid offensive line (Jordan Gross and Ryan Kalil were successful high draft picks), good running game (DeAngelo Williams and Jonathan Stewart were two more successful high picks) and a staunch defense (Jon Beason has more than lived up to first-round billing).
15. Scott Pioli, Chiefs
Was an integral part of the Patriots dynasty and is showing a knack for finding players who fit the Chiefs' scheme.
16. Billy Devaney, Rams
Has not been at the helm long; will soar up this list if his 2011 draft class turns out to be anything like his 2010 class.
17. Mike Shanahan, Redskins
A nod to experience more than anything. Shanahan The GM has never been as good as Shanahan The Coach. But Shanahan The GM has still been around the block a time or two and knows exactly what he wants. Having Bruce Allen handle some of the technical GM duties is helpful.
18. Ken Whisenhunt/Rod Graves, Cardinals
Only one player they've taken in the first three rounds has not contributed (Cody Brown). The rest all have been part of a club that has won postseason games two of the past three seasons.
19. Jerry Angelo, Bears
Seems to have a slightly better feel for the veteran market than the rookie market, but we're nitpicking. Has done a fine job finding players who fit Lovie Smith's Cover 2 defense. Offensively, he's building around Jay Cutler (for whom he traded significant picks to get).
20. Mike Reinfeldt, Titans
The assumption is he occasionally has to cater to the demands of Bud Adams, which could be a challenging wrinkle to his job. Overall, has constructed a deep roster and seen a few gambles pay off (notably Chris Johnson in 2007).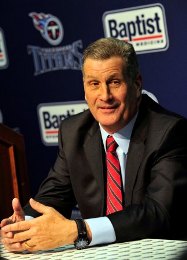 21. Rick Spielman, Vikings
Too many busts early in his tenure, though some of that was beyond Minnesota's control (Kenechi Udeze's health issues, Erasmus James' injuries). While forcing a few picks into the lineup, the Vikings also have gotten their money's worth from top picks Percy Harvin, Sidney Rice and Adrian Peterson (considered a risk because of injury problems at Oklahoma).
22. Jerry Jones, Cowboys
Yes, the Cowboys have a talented group. But a bulk of that talent was acquired when Bill Parcells was around.
23. Martin Mayhew, Lions
Still waiting to see what becomes of the major investments on offense (outlook appears good but still not certain).
24. Jeff Ireland, Dolphins
Brand new in his role as top decision maker. It wouldn't be fair to judge him based on what his former boss (Parcells) did.
25. Gene Smith, Jaguars
In two years has shown willingness to rebuild in bunches by using back-to-back draft picks on the same position. In that time, not a lot has changed in Jacksonville's bottom line, though there is legitimate optimism about this franchise's direction.
26. Pete Carroll, Seahawks
It's way too early to judge. His first draft class looks like it could turn out to be spectacular at the top (Russell Okung has star traits, Earl Thomas has shown flashes and many like Walter Thurmond) but very few men have successfully worn the GM hat while coaching.
27. Trent Baalke, 49ers
The Niners' draft record during his two years as VP of Player Personnel was iffy, but he wasn't the final decision-maker then. His first draft class will likely prove to have produced long-term starters with the first four picks (Mike Iupati, Anthony Davis, Taylor Mays and NaVorro Bowman). Iupati, in fact, seems destined to be a perennial Pro Bowler.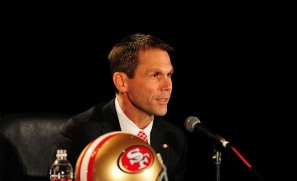 28. Buddy Nix, Bills
Bills are full of overachievers, but part of overachieving is not being very talented. The Aaron Maybin air ball in 2009 puts a damper on what was otherwise a solid draft class. But Nix, a national scout at the time, wasn't fully responsible for that draft class. His 2010 draft class is off to a slow start but its still in the judgment phase.
29. Rick Smith, Texans
Houston is overhauling its defensive scheme after spending five years investing first-round picks on players who were supposed to fit that scheme.
30. Mike Brown, Bengals
He would be a great fantasy drafter because he always takes the best player. Problem is, in the real draft, team chemistry needs to factor into your decisions. Those "best players" Brown takes are often available because of character red flags.
31. John Elway, Broncos
No track record to evaluate.
32. Al Davis, Raiders
One apparently solid draft (2010) does not erase years of atrocious ones.

For more NFL news, rumors and analysis, follow @cbssportsnfl on Twitter and subscribe to our RSS Feed .