Posted by Will Brinson
NEW YORK -- For years, the player chosen to be on the cover of the Madden video game was c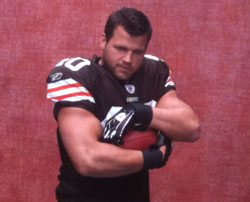 elebrated for their individual accolades. And
Peyton Hillis
, the man chosen for the
Madden 12
cover which was shot (see: right) during an EA Sports event in Time Square, succeeded in 2010, but he's giving it all to the fans when it comes to his selection this year.
"It's just a blessing," Hillis said. "I feel like people see what I do to my body and what I do on the field and they appreciate that and they respect that. And all I can do is hope I can give back to them, whether it's Cleveland or Arkansas or my fans back in Denver, how many ever that is.
"And it's just a blessing that I can actually be here and do this right now for them."
Hillis also understands that the city of Cleveland hasn't exactly had the best run when it comes to sports-related success recently, and that a city who got firmly behind it's newest star is reveling in the success.
"Well, it's huge," Hillis said. "They really haven't had a winner in a while, ever since they left to go to Baltimore. In my mind, this is not about myself, this is not about me, this is about what can I give back to the team and community and hopefully that's a winner."
Hillis did admit that he's not an insanely avid Madden player (he buys the game every year, but "just because I'm in the NFL and I love beating my brother at it," which, coincidentally is the same reason I buy it every year).
But, he also said he was cool with the way that Madden portrayed him ... except he thinks they made him too skinny.
"The thing about it is the [low speed rating] doesn't really hurt me," Hillis said. "I ran a 4.5 in college -- that's adequate speed at best.
But I look at the game, I look skinny and I know I'm definitely not skinny. So I'd like to that to be changed, but other than that, I think it's pretty good."
Not the toughest life for Hillis, huh? But the dude deserves it -- he's got a superb attitude, he cares about the fans and remains humble despite the fact that the worst thing in his life right now is that the virtual reincarnation of himself is too skinny.
For more NFL news, rumors and analysis, follow

@cbssportsnfl

on Twitter and subscribe to our
RSS Feed
.