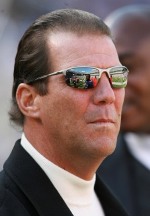 Posted by Josh Katzowitz
NEW YORK – The trade deal that fell through at the last moment and cost the
Ravens
the
No. 26 pick
in the first round of the NFL draft continues to fester in the mind of Baltimore owner Steve Bisciotti a few days later.
(In case you need a behind the scenes look at what happened, click
this link.
)
Though the Ravens wanted the
Bears
follow through and give them the fourth-round pick Chicago originally had agreed to trade (and though commissioner Roger Goodell apparently encouraged the Bears to give Baltimore some retribution), Chicago has refused to do.
Instead, the Bears traded their fourth-round pick in order to move up in the second round and take DT
Stephen Paea
.
Bisciotti is not happy with it.
"I'm disappointed in the Bears and the McCaskeys," Bisciotti told the
Baltimore Sun,
via the
Chicago Tribune.
"It is, in my opinion, a deviation from their great legacy. They concluded that their heartfelt and admirable apology was sufficient for our loss. All of us at the Ravens strongly disagree … probably end of story."
On the Bears side, they feel they don't owe anybody anything. They'd already called Baltimore on Friday to give an apology, but as far as following through on a trade that never actually occured, Chicago's management wasn't prepared to give up any of its draft picks.
"We made an honest mistake," Bears GM Jerry Angelo said. "No more than that. There was total transparency. You make your apologies and we did and if there are consequences, you accept those consequences and then you move on. So be it.
For more NFL news, rumors and analysis, follow @cbssportsnfl on Twitter and subscribe to our RSS Feed .