Posted by Andy Benoit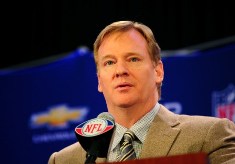 Despite the NFL currently being busy fighting tooth and nail in the ongoing labor battle with the NFLPA, the league is still willing to put a spotlight on the idea of having an 18-game regular season. An 18-game season is an idea that most players hate vehemently and most passionate fans hate generally (more on that in a second).
But league spokesman
Brian McCarthy tweeted
over the weekend, "At fan forum, @nflcommish (Roger Goodell) asks fans, do u want 2 pre and 18 reg season games? 56-4 say yes."
So 56 out of 60 fans at this private forum told the NFL they wanted a longer regular season. That prompted the website
Pro Football Talk
– which is super popular with hardcore fans and league insiders – to put up its own poll asking readers if they want an 18-game regular season. As of Sunday afternoon, of the 10,000-plus people who responded, 64 percent said NO.
What's the difference between PFT's poll and the league's poll? In the PFT poll, fans were not casting their votes in a room with the most powerful man in football watching them. And while we don't know what was said during the NFL's fan forum, it's probably a safe bet that fans casted their vote sometime shortly after Goodell preached to them what he feels are the merits of an 18-game season.
For more NFL news, rumors and analysis, follow

@cbssportsnfl

on Twitter and subscribe to our
RSS Feed
.