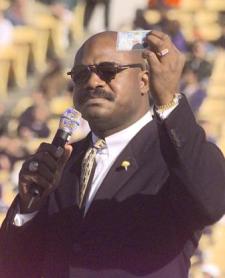 Posted by Will Brinson
You may recall that Dave Duerson, the former Chicago
Bears
player
who committed suicide in February at the age of 50
, asked before killing himself
that his brain be dedicated to scientific research
.
It was, and the Center for the Study of Traumatic Encephalopathy at Boston University's School of Medicine announced those results on Monday: Duerson had brain damage.
Typically, according to Dr. Robert Cantu, co-director of the CTSE, the results of such studies aren't made public until after a study has been published. However, in this instance, the Duerson family wanted the results released immediately.
Since Duerson's death,
many a member of the football community has spoken up
, including ex-Bears coach Mike Ditka, who
called Duerson's suicide a "tragedy."
Duerson's death has also, seemingly, encourage members of the football community to speak out against the lasting effects of the game on their brains and bodies: recently, Terry Bradshaw went public with the admissions that he was suffering from short-term memory loss and depression, likely as a result of all the shots he took while on the NFL field.
Duerson's autopsy was disturbing
-- and so is the motivation that leads a man to shoot himself in the
chest
in order to achieve the goal of suicide while leaving the brain entirely intact.
But it's clear now
why
Duerson did what he did: his brain was significantly impacted by his time as a football player. It's likely that the Traumatic Brain Injuries (TBI, though you know them in their mild form as "concussions") he suffered led to his brain damage and likely a depressed state of life that led to suicide.
It's a sad, sad saga that's unfolded surrounded Duerson's death, but his willingness to sacrifice his brain, in more ways than one, will hopefully lead to better recognition of player safety and further medical advancement of how players' brains can be impacted by football.
For more NFL news, rumors and analysis, follow

@cbssportsnfl

on Twitter and subscribe to our
RSS Feed
.