Posted by Andy Benoit

One of the best things about the draft is that from it we can find out what teams really think about their current players. Excluding examples of teams filling obvious needs, here are some of the more revealing draft picks from 2011, with a quick blurb of what the team was really saying by making this pick.
Chicago Bears

1st round, Gabe Carimi, OT, Wisconsin
Come on, it's obvious: our offensive tackles stink and former first-round pick Chris Williams will be at guard for the long haul.

3rd round, Chris Conte, FS, California
What can we say? For some reason we've never totally trusted Danieal Manning.

5th round, Nathan Enderle, QB, Idaho
Decent play off the bench in the NFC Championship isn't enough to completely sell us on Caleb Hanie. We at least want some options at backup quarterback for now.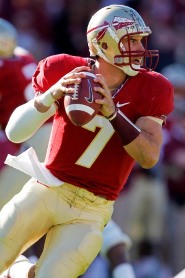 Detroit Lions

2nd round, Mikel Leshoure, RB, Illinois
If he pans out, Jahvid Best will become like Jamaal Charles, not Chris Johnson. (i.e. he needs someone to share the load.)

Green Bay Packers

2nd Round, Randall Cobb, WR, Kentucky
We want to sign RFA James Jones long-term but have a feeling he'll ask for too much money. And even if we can sign Jones, Donald Driver is closer to the end than you think.
Minnesota Vikings

1st round, Christian Ponder, QB, Florida State
We like this quarterback (and no team picking in the twenties would trade with us).

2nd round, Kyle Rudolph, TE, Notre Dame
Visanthe Shiancoe is a nice player, but ultimately we consider him part of the "Favre era".

Check back throughout the week for other division's Draft Truths Revealed. To see all Draft Truths Revealed, click the "Draft Truths" tag.

For more NFL news, rumors and analysis, follow @cbssportsnfl on Twitter and subscribe to our RSS Feed.