Posted by Andy Benoit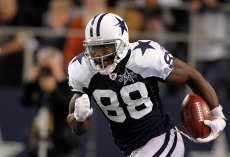 UPDATE (6:45 p.m.): Per Calvin Watkins of ESPN Dallas, Tony Romo said that Bryant joined the workouts on the second day.

About 40 Cowboys showed up for the team's player-organized workouts on Tuesday. It was the first player-organized events for the team since the lockout.

"It went great," Tony Romo said, according to Todd Archer of ESPN Dallas. "We had a great turnout. It was crisp. It was fast. You could feel the energy from the guys being back out there. Guys were committed. It was great to see."

Romo would not specify which players were in attendance, but ESPN 103.3 in Dallas heard that Dez Bryant was not one of the participants. While some players can't attend because they simply aren't in Texas at the moment, it is believed that Bryant is in the Dallas area.

Bryant's absence would not be noteworthy if not for his failure to appear at Valley Ranch during the brief lifting of the lockout last week. After Bryant's no-show last week, Randy Galloway of the Fort Worth Star Telegram ripped the young receiver, writing:

On Friday, when the doors at Valley Ranch temporarily swung open for players, the Cowboys' training staff was waiting eagerly on Bryant, mainly to check on the rehab of the broken ankle from last season, a rehab that has gone unsupervised due to the lockout.

We can assume the reports of Dez playing high-end pickup basketball games in Cedar Hill would not be recommended rehab by the trainers.

Dez's new receivers coach is Jimmy Robinson, a guy Bryant has hardly met. Friday would have been a perfect get-together moment. The same goes for new strength and conditioning coach Mike Woicik, one of the NFL's most respected. Woicik surely has some ideas for Dez.
There have been whispers all offseason that Bryant has too much leeway within the Cowboys organization. It would be a surprise if this turns out being the last "Dez Bryant issues" story we ever write.

For more NFL news, rumors and analysis, follow @cbssportsnfl on Twitter and subscribe to our RSS Feed.