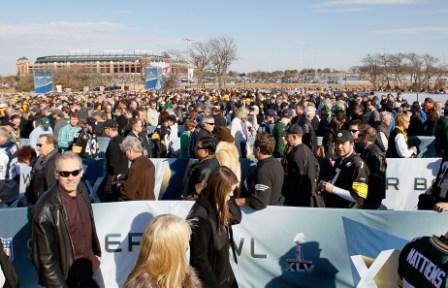 Posted by Josh Katzowitz
You might recall how there were some problems with some temporary seats at Super Bowl XLV. It wasn't a big deal or anything, but the people who were in those seats had to wait in lines for hours and then weren't allowed to sit at the spot where the ticket they bought said they could.
It was a minor controversy that was quickly forgotten once the game started. Heck, you probably don't even remember what I'm talking about, right?
Oh, that's right. It was a
huge
deal – very embarrassing to the NFL and
Cowboys
owner Jerry Jones – with lawsuits and livid fans, and the fallout continues even three months later.
The
Fort Worth Star Telegram
reports that Jack Hill, the stadium manager for Cowboys Stadium, has resigned and will leave his position June 1.
Though Cowboys executive vice president Stephen Jones said the Super Bowl fiasco didn't play a part in Hill's decision to leave – and maybe it didn't, as Jones implied Hill is more of a stadium builder than a stadium manager – there's little doubt that Hill took much of the blame for the massive Super Bowl screw-up.
Hill was the one who asked for the permits to install the temporary seating, and he assured Arlington, Texas city leaders that he would use extra workers to make sure the job was complete, you know, before the game started.
That obviously didn't happen. Not that it was a big deal or anything.
For more NFL news, rumors and analysis, follow @cbssportsnfl on Twitter and subscribe to our RSS Feed .