Posted by Andy Benoit

One of the best things about the draft is that from it we can find out what teams really think about their current players. Excluding examples of teams filling obvious needs, here are some of the more revealing draft picks from 2011, with a quick blurb of what the team was really saying by making this pick.
Buffalo Bills

1st round, Marcel Dareus, DT, Alabama
Deep down we know we'll never really run a 3-4 defense.
3rd round, Kelvin Sheppard, ILB, LSU
But just in case we do….
4th round, Da'Norris Searcy, SS, North Carolina
Replace Donte Whitner? Heavens no, we wouldn't have him do that! We'll have Searcy replace backup George Wilson…and let Wilson be the guy to replace Whitner.
Miami Dolphins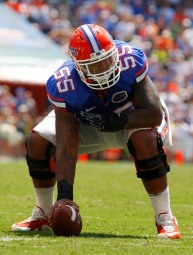 1st round, Mike Pouncey, G/C, Florida
We're still not entirely sure if Richie Incognito is a guard or a center. So, we got an even better tweener to shape that decision around.
New England Patriots

1st round, Nate Solder, OT, Colorado
The hints of decline that veteran left tackle Matt Light showed last season are only going to get worse. No way we'll pay him market value.
P.S. Sebastian Vollmer's future is at right tackle.
2nd round, Ras-I Dowling, CB, Virginia
It's a tradition around here to draft corners in the second round. Plus, Kyle Arrington has no ball skills.
2nd round, Shane Vereen, RB, California
We need to replace Sammy Morris and Fred Taylor. Also, we wouldn't mind letting some other team overpay BenJarvus Green-Ellis once he becomes an unrestricted free agent.
3rd round, Stevan Ridley, RB, LSU
Just in case Vereen turns out to be a flop.
3rd round, Ryan Mallett, QB, Arkansas
Even we're not sure exactly why we did this. But we'll figure something out.
New York Jets

4th round, Bilal Powell, RB, Louisville
We can't shake the images of Joe McKnight throwing up at camp last year.
Check back throughout the week for other division's Draft Truths Revealed. To see all Draft Truths Revealed, click the "Draft Truths" tag.

For more NFL news, rumors and analysis, follow @cbssportsnfl on Twitter and subscribe to our RSS Feed