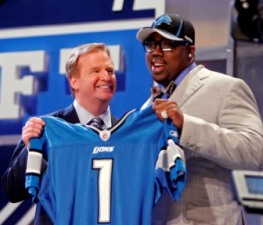 Posted by Josh Katzowitz
When the lockout briefly was lifted last week, there was talk that those taken in the first round of the NFL draft could receive playbooks and interact with their new coaches – a courtesy that couldn't be extended to the rest of those drafted in the later rounds because the lockout was put back into place during the middle of the second round.
But the
Detroit Free Press
writes that the
Lions
didn't bother getting DT
Nick Fairley
any new reading material.
And if it seems like a curious decision – why wouldn't you get the guy your information when you had the legal authority to do so?!? – coach Jim Schwartz feels he has a perfectly good explanation.
"Our blood pressure's pretty low on stuff like that," Schwartz said. "We don't want to rush things. You give somebody a set of instructions without being able to communicate with them, it really might not do a whole lot of good so we haven't done a whole lot."
Yes, but what if the lockout extends deep into the summer and then the lockout is lifted with only a short training camp possible before the regular season begins? Won't Fairley be hampered because the Lions didn't give him the opportunity to familiarize himself with the material when they had the chance?
In Schwartz's mind, that theory is almost irrelevant when it comes to discussing Fairley, because he says his scheme isn't complicated for defensive linemen and that Fairley's obstacles will be more physical than mental.
Still, he doesn't want Detroit's draft class to get lazy during the lockout.
"Whenever they get the call and we're back to work, they don't need to be worrying about whether they're in good enough shape," Schwartz said. "What they need to be worried about is learning and doing all those other things, and if they're trying to do both it's going to be too much for them."
For more NFL news, rumors and analysis, follow @cbssportsnfl on Twitter and subscribe to our RSS Feed .