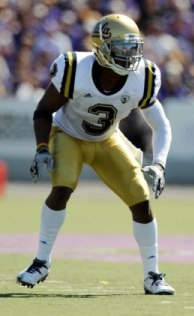 Posted by Andy Benoit

One of the best things about the draft is that from it we can find out what teams really think about their current players. Excluding examples of teams filling obvious needs, here are some of the more revealing draft picks from 2011, with a quick blurb of what the team was really saying by making this pick.
Denver Broncos

2nd round, Rahim Moore, FS, Broncos
We too can read Brian Dawkins' bio: born October 13, 1973. (Also, we'll admit, it's not ideal that we'll have to relocate intriguing young safety Darcel McBath.)
2nd round, Orlando Franklin, OT, Miami
We're not fond of either RG Chris Kuper or RT Ryan Harris. Hard to say which of those two, exactly, since every outside observer can see that both of those players are athletic young blockers. So yeah, we probably didn't (in any which way) need to draft an offensive lineman this early. But you know how it is with new GM's.
3rd round, Nate Irving, ILB, North Carolina State
We feel the same way about Joe Mays as the Eagles did.
Kansas City Chiefs

2nd round, Rodney Hudson, C, Florida State
Rudy Niswanger doesn't have the strength to hold up in a phone booth.
3rd round, Justin Houston, OLB, Georgia
He can smoke all the weed he wants, he's still a much, much better athlete than Andy Studebaker.
5th round, Ricky Stanzi, QB, Iowa
Can you believe we ever toyed with the idea of starting Brodie Croyle!?
Oakland Raiders

2nd round, Stefen Wisniewski, C, Penn State
You might think this was a legacy pick. Yup. (But the good news is we needed a center anyway.)
4th round, Taiwan Jones, RB, Eastern Washington
We'd like to re-sign Michael Bush, but you never know.
San Diego Chargers

2nd round, Jonas Mouton, OLB, Michigan
The hope is that he'll play well right away and no one will notice that our '09 first-round pick (Larry English) has absolutely no pass-rushing instinct.
Check back throughout the week for other division's Draft Truths Revealed. To see all Draft Truths Revealed, click the "Draft Truths" tag.

For more NFL news, rumors and analysis, follow @cbssportsnfl on Twitter and subscribe to our RSS Feed .