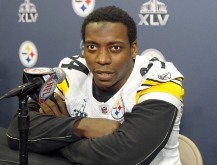 Posted by Will Brinson
In the wake of
Rashard Mendenhall
's cringe-worthy
Osama Bin Laden moment on Twitter
, there's probably a contingent of people who think that the Mendenhall should probably run anything he's firing out onto the Internet by someone in the PR department.
Mark Madden of the
Beaver County Times
wants
to take things a step further, though, and have the
Steelers
keep
everyone
on the team off of social media.
"When the NFL labor dispute ends, the Steelers should: Bar players from social networking," Madden wrote on Sunday. "No Twitter, no Facebook, nothing of the sort. No tangible good can come from it. Only stupidity."
Madden also wrote that the Steelers should "order Mendenhall to apologize."
Though I'm not sure
what
Mendenhall should apologize for -- "My bad for having an opinion, exercising my First Amendment rights and then
not apologizing enough in my original apology
, you guys!" -- it's the first point that bothers me more.
As I said last week
, Twitter doesn't make people do stupid things -- people make people do stupid things. If someone wants to say something dumb, they can do it in a press conference, they can do it the radio, they can do it on a blog or they could take the time to actually scrawl it out in crayon on a sidewalk.
There's no shortage of mediums for people to get across whatever message they want to get across. Do Twitter and Facebook offer a more easily accessible venue? Sure they do. It's why they're popular.
But this isn't some evil Internet message board, created by trolls and maintained by pantsless bloggers, and hellbent on bringing down society.
It's a modern-day form of communication, and just because a few bad apples aren't mature enough to figure out that saying something stupid on Twitter or Facebook will get your message sent around the world almost as fast as you can post it, then that's a bigger reflection of an individual's own problem with self-control than it is a reflection of "all social media is evil."
Social media, in today's world,
is part of an overall brand reflection
-- if you can't be smart enough to leverage that, then there are bigger issues at hand than players owning Twitter accounts.
For more NFL news, rumors and analysis, follow

@cbssportsnfl

on Twitter and subscribe to our
RSS Feed
.