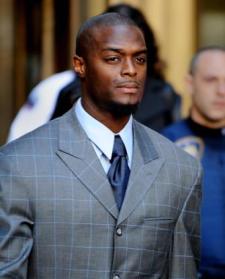 Posted by Josh Katzowitz
Plaxico Burress will be out of jail next month and then will look to find employment in the NFL. And he most likely will draw some interest on the free agency market for the 2011 season.
But there are few other people who REALLY are excited about Burress becoming a free man – his wife, his 4-year-old boy, and his 18-month-old daughter.
"Every time I think about it, I just get tears in my eyes, happy tears. Just so excited that he'll actually be out and just . . . be free," Tiffany Burress told the
NY Post
. "Be a free man and be able to come home back to this family."
Burress is scheduled to be released June 6 after serving 20 months following a guilty plea on a weapons charge – you might recall that he discharged an unregistered pistol into his own leg at a Manhattan club. Since then, he's talked with his son every night on the phone, and his wife, Tiffany, has visited him about three dozen times.
And when Burress gets out of prison, he'll get the honor of really getting to know his daughter – who was born while he was away (he actually didn't know Tiffany had given birth until five days after the fact).
"Randomly, during that period, they weren't letting him use the phone, so I actually had to write him a letter," Tiffany said. "I called while I was in labor and I asked the correctional facility to relay that message to him, but they didn't."
"I think the most emotional I've seen him was the first time that he saw Giovanna."
Think about all the emotions he'll have when he sees his family for the first time.
"I think whenever you're in that situation, you just really realize to appreciate everything that's given to you, because you go into that situation and everything is taken away from you," Tiffany says. "So his whole thought process about everything has changed. He appreciates everything."
For more NFL news, rumors and analysis, follow @cbssportsnfl on Twitter and subscribe to our RSS Feed .