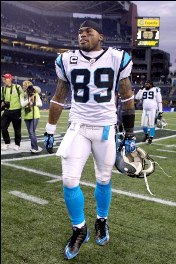 Posted by Josh Katzowitz
There's been a bunch of talk lately about how
Panthers
WR
Steve Smith
wants out of Carolina, about
how he's cleaned out his locker
at Bank of America Stadium and about how the
Chargers
or
Raiders
could be
the recipient of his services
.
Smith hasn't been interested in talking about why he wants to be traded – although we could probably guess it has something to do with the Panthers not having a great chance of winning in the foreseeable future – saying only that it's
between him and his family.
But now, Smith has decided to talk a little bit, telling
Pro Football Weekly
that he actually hasn't demanded a trade.
"What I have asked for is to be in a competitive situation," Smith told PFW. "I sat down with Marty (Hurney, Carolina's GM) a lot of times prior to the lockout."
Although he's not sure whether the Panthers actually will trade him, he also said that just because his house is for sale, that doesn't mean he's actually planning to leave town.
"I think it's important that people realize I am not packing my bags," he said. "As far as why my house is for sale, we built this huge house and we just don't have any business living in it. It seemed like a great idea, and then we moved into this big house. We started cringing at all that space we had.
"For me, it was a little bit vain that I have this big house with this big yard. People saw my house was on sale and said it was me sending a message. Really the message I sent was to my kids: Dad made a mistake. This isn't how we are supposed to live. This isn't what I should be projecting. If we don't do this now, what incentive do I give my kids to reach for? You make a lot of money and then you go blow it? I don't want to be a statistic. I want to be a good steward."
What does any of this mean? Who knows. And really, as long as the lockout continues, it really doesn't matter, because for now, Smith isn't going anywhere regardless of whether or not he sells his house.
For more NFL news, rumors and analysis, follow @cbssportsnfl on Twitter and subscribe to our RSS Feed.