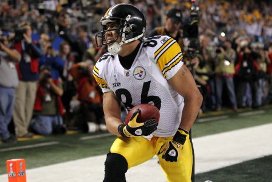 Posted by Will Brinson
Rashard Mendenhall
's opinions of 9/11 aren't very popular -- it cost the
Steelers
running back
an endorsement deal with Champion
and
a lot of flak from the general public
.
Turns out, it wasn't just the general public who thinks Mendenhall made a mistake saying what he did. His teammate,
Hines Ward
, also recognizes how dumb the tweets were.
"Everybody's entitled to their opinion," Ward said,
per Michael David Smith of Pro Football Talk
. "But that wasn't a good opinion."
Ward also discussed the consequences of social media in today's world and, unlike his teammate
Ryan Clark
, who thinks athletes simply shouldn't use it, he was spot on.
"If that's your opinion leave it as your opinion," Ward said. "When you tweet that out there, you have to deal with the backlashes that come with that. You put everybody out there because everywhere we go we get asked questions about the comments you made. When you tweet like that, you've got to be careful.
"I'm not a big tweeter because sometimes your emotions get caught up, you speak your mind and it's not always the best thing to say."
Look, anyone can get caught up in the heat of the moment and say something stupid on social media; it's not a requirement that you be an athlete.
But being an athlete means you're more high profile, and that means being a little more careful about what opinions you throw out there.