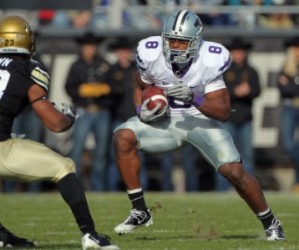 Posted by Josh Katzowitz
A few days ago, we
mentioned a story
that discussed the possibility of the
Dolphins
reinserting some elements of the Wildcat offense.
And now that Miami drafted RB
Daniel Thomas
in the second round, it certainly makes sense to give it a shot.
Thomas, in case you didn't know, was a quarterback in junior college and then had pretty good success at Kansas State when the Wildcats occasionally dialed up the Wildcat offense. You might ask, "Well, the Dolphins drafted Pat White in the second round a few years back, and that was a disaster, right?" True, but remember this – Thomas is about three inches taller and 40 pounds heavier than White.
Plus, White was a quarterback and nothing more. Thomas instead would be used every once in a while at the QB spot, and he'd be better equipped than White to handle more of a pounding by the defense (he is, after all, a running back).
Recently, the
South Florida Sun Sentinel
asked him about the potential of running the Wildcat and if the team had talked to him about it.
"Just a little bit," he said. "They didn't give me some of the details, but that's something I definitely can bring to the table. I ran it a lot in my two years at Kansas State. You know, I was actually a quarterback in junior college, so that's basically what I did there as well."
Yes, but can you actually throw a pretty decent pass?
"I'm good with throwing," he said. "I can do whatever they need me to do."
For more NFL news, rumors and analysis, follow @cbssportsnfl on Twitter and subscribe to our RSS Feed.