Posted by Andy Benoit
The motif of post-draft quarterback analysis this offseason has been, How will the rookie signal-callers learn their first NFL system if there are no offseason team activities?
Of all the rookie quarterbacks,
Cam Newton
's mental develo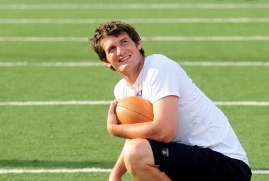 pment will be followed the closest. The No. 1 overall pick and highest-profile NCAA player in 2010 has drawn scrutiny for his unproven football IQ (remember Newton telling Jon Gruden before the draft about Auburn's playbook being number-coded?).
In continuing that scrutiny, we pass along the report from
Joe Person of the Charlotte Observer
that Newton is learning his playbook at the IMG Academy in Bradenton, FL with the help of former NFL quarterbacks Chris Weinke and Ken Dorsey.
Weinke, you recall, played for the
Panthers
. Dorsey may not be as
snazzy a mentor
as Brett Favre, but his contributions are noteworthy because he played for current Panthers offensive coordinator Rob Chudzinski at the University of Miami (and briefly in Cleveland, as well). Thus, Dorsey knows most of Carolina's new offensive system.
"It's a lot of material that I do not know, but each day I'm going in and learning something," Newton told the Associated Press. "So by the time . . . the lockout is lifted and I get a chance to talk to Chudzinski and (QB coach Mike) Shula and meet back up with the team, I'll be on top of my game."
Newton recently told reporters that he's putting in 12-hour days at the IMG Academy.
For more NFL news, rumors and analysis, follow @cbssportsnfl on Twitter and subscribe to our
RSS Feed
.