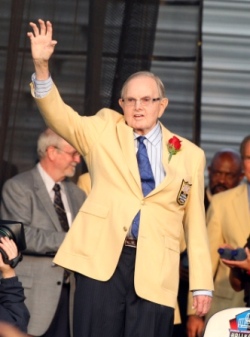 Posted by Josh Katzowitz
When presented with the extension of the NFL Collective Bargaining Agreement in 2006,
Bills
owner Ralph Wilson wasn't interested in signing it. It didn't matter that 30 of the league's 32 owners gave their approval –
Bengals
owner Mike Brown was the other dissenter – Wilson didn't think it was a good deal for the owners.
Now, the rest of the NFL agrees with him and Brown.
Before the rest of the owners caught up to him, Wilson was saying the deal was too rich for the players (though the
New York Daily News
points out that others DID agree with him but signed the CBA extension anyway) and he didn't like the revenue sharing plan that he felt didn't give small-market teams enough money.
"I came into this game 50 years ago because I enjoyed the game of pro football. Not to make money," Wilson told the
Daily News
. "In those days, everybody was hoping to break even. We lost money for a number of years. I am really not into the game to make money, but I would like to break even or make a little."
Wilson actually bought his spot in 1960 in the first year of the old American Football League, and for a few years, the NFL's competitor barely stayed afloat. Eventually, the AFL began beating out the NFL to sign the top stars coming out of college and had the NFL worried enough that they agreed to an NFL-AFL merger in 1966.
Wilson, these days, is 92 years old, doesn't catch many Bills games in person and doesn't have a role in the current negotiations. But he's hoping like hell none of the season will be lost to the current lockout.
"I hope the sides come to an agreement," he said. "I hope they can. I miss football like millions of other people."
For more NFL news, rumors and analysis, follow @cbssportsnfl on Twitter and subscribe to our RSS Feed.