Posted by Andy Benoit
Between now and whenever the 2011 NFL season actually begins, you can expect at least 1 million – and more likely 2 or even 3 million – stories about rookies intimating that they have a chip on their shoulder and about how they have something to prove and yada yda yada because so many teams passed on them in the draft.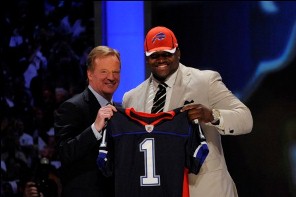 Normally, it's best to treat these stories the same way you might treat a panhandler in Times Square: pretend not hear. But we'll make an exception for
Marcell Dareus
, only because he was drafted so high that when he gripes about teams that passed on him, he can't help but get specific.
That's what the No. 3 overall pick did in a recent appearance on Michael Irvin's radio show on
WQAM in Miami
. Irvin asked Dareus if he should have been the first overall pick.
Dareus replied "yes" with no hesitation. Then he elaborated. "If I ever get a chance to play Carolina I'm going to make them pay for passing up on me," he said. "Denver I'll get a chance to play them in the regular season (this year) and I'm going to make it hell for them every time I play against them."
That wasn't all.
"I worked my butt off to the point where I'm not going to give you a reason not to pick me," he said. "You're not going to look at me and be like, 'Well he's good, but…" That 'but' word is never going to come up when you mention my name. My sole focus was for me not to give you a reason to not pick me and you still don't? Okay, I understand you have needs somewhere else, but if you need somebody to control your front and be a commander across the front and not let anything happen? I work my butt off to do that, and you pass me up still? Okay, I've got something for you."
So, in conclusion, Marcell Dareus has confirmed that he intends to play hard against the
Broncos
this year and against the
Panthers
in 2013.
For more NFL news, rumors and analysis, follow @cbssportsnfl on Twitter and subscribe to our
RSS Feed
.