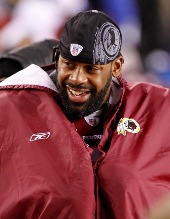 Posted by Andy Benoit
Last week, reports surfaced that
Donovan McNabb
refused to wear a wristband in his first season as a Redskin. According to the story, McNabb's pride carried the day on that decision.
McNabb did not respond to the reports…until now. In an interview with
Mike Jones of the Washington Post
, McNabb declined to say whether he did indeed decline a wristband or not. But he did characterize the anonymous reports as "amazing".
"For someone who's so quiet and really just tries to be the best at what I do, and to be a part of the firestorm every offseason, it's amazing," McNabb said. "But I never let that affect what I'm doing. I write goals for myself every season and offseason, and I look to achieve those goals, and they really make you stronger mentally and physically. Things are going to be out there negative, out there about you. Everyone's going to play the hoopla and what-if. But I can only control what I can control. All I can do is make sure I'm ready when the time comes."
McNabb was also asked about
John Beck
boldly
saying he plans to be the starter in Washington
.
"John is a great guy. He does a great job preparing himself," he said. "I've known him since he was about 16 years old. I've trained with him in Arizona, he went to BYU. He's done a great job, and I'm sure he's taking on that role because he's kind of been given the position, so to speak. He'll do a good job if that was to happen. But whatever the situation is – if I'm here, if I'm elsewhere -- I'm gonna be ready to go."
McNabb is not sure where he'll play in 2011. He intimated that he likes the city of D.C. but, reading between the lines, it's apparent that McNabb himself is, well, also capable of reading between the lines.
For more NFL news, rumors and analysis, follow @cbssportsnfl on Twitter and subscribe to our RSS Feed.