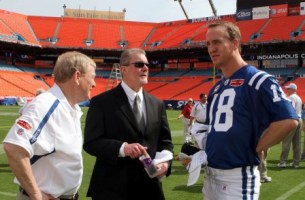 Posted by Will Brinson
There's no hard and fast deadline for the lockout to end in order to get a full NFL season in -- even Roger Goodell, on a recent call with
Steelers
season-ticket holders,
said there was no "drop-dead date."
But Jim Irsay, who's been fairly outspoken about getting a deal done on Twitter thus far, think that the 4th of July is when the NFL should target if they want training camp this season.
"There's a window where we can get something done,"
Irsay said, via Mike Chappell of the
Indianapolis Star
. "But we really need to get something done by the Fourth of July or thereabouts so we can get in and have training camp and preseason and get ready that way.
"There has to be some real urgency to get this thing resolved and really have a full season with a training camp and preseason games. It would be very unfortunate if we get a deal done Oct. 1 that we could have gotten done on July 10. The losses are great if we start missing preseason games and early (regular-season) games."
That's probably a pretty good estimate on Irsay's part.
There's just one problem: the Court of Appeals is
highly
unlikely to rule on the June 3 lockout hearing by that time, as it's estimated they could take between 45 and 60 days to do so. (Though no one, including the judges, actually knows for sure quite yet.)
And there's also the pending issue of the television fund ruling, which should come from Judge David Doty some time soon. We think. (All indications point that there could be a ruling from Doty as soon as this week, but, again, nothing's guaranteed.)
And it's unreasonable to expect a deal to get hammered out until the NFL and NFLPA can fully assess the leverage given to them in the coming negotiations.
And even if the Doty crushes the NFL with his ruling, the league will still appeal to the 8th Circuit, which makes July 4th almost entirely unlikely expectation unless something changes dramatically for either side in the coming weeks.
For more NFL news, rumors and analysis, follow

@cbssportsnfl

on Twitter and subscribe to our
RSS Feed
.