Posted by Andy Benoit
Ali White, the 21-year-old cousin of
Roddy White
, was arrested on armed robbery over the weekend. We wouldn't report the story except that the
Atlanta Journal Constitution
did and Roddy was furious about it.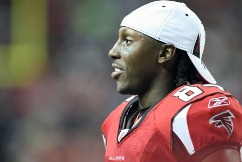 The
Falcons
receiver
tweeted
, "Can the atlanta journal constitution not call my phone anymore about stuff tht has nothing to do with me if its not football related don't call my #!@%*# phone. Better yet don't even associate me with criminal activities I aint done nothing u f****** a*******."
The AJC noted that four years ago, Ali White was troubled and moved from Charleston, SC to Georgia to live with Roddy. They no longer live together. And if Ali is found guilty, they won't be living together again anytime soon. According to the AJC, "Police say four men in ski masks -- one carrying a baseball bat, another carrying a handgun -- barged into the basement of a home on May 2 while a woman and her boyfriend were relaxing and playing a video game…One intruder struck the woman, while another pistol-whipped the man, causing him lacerations."
To be clear, Roddy White had nothing to do with this. But he might learn a lesson here. White was angry that the AJC tied his name to the story. Still, it was a story confined almost strictly to the Atlanta area. By taking his anger to Twitter, White put the story in front of the entire nation.
For more NFL news, rumors and analysis, follow @cbssportsnfl on Twitter and subscribe to our
RSS Feed
.