Posted by Andy Benoit
As executive director of the NFL Players Association, Gene Upshaw developed what many felt was an extremely cozy relationship with the NFL league office and the owners. His unexpected death in 2008 had a significant impact on the labor negotiations.

Saints quarterback Drew Brees thinks the owners used it as an o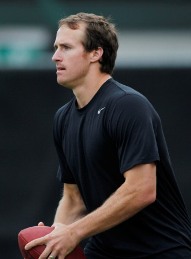 pportunity to gain leverage on the players.

"Ever since Gene Upshaw passed away -- I'm just going to lay it all out there -- the owners saw blood in the water," Brees told Sports Illustrated's Jim Trotter. "They felt like, 'This is our opportunity to take a significant piece of the [financial] pie back at all costs, a piece that we will never have to give back again. This is our chance, while they don't have leadership, while they're scrambling to find a new executive director. This is our time.'

"I can point to about five different things to prove to you that they were ready to lock us out. They opted out of the last year of the [CBA] deal; they hired Bob Batterman [who oversaw a lockout of NHL players]. They tried to take the American Needle case to the Supreme Court to basically give them an antitrust exemption or single-entity status but were defeated 9-0; they established new TV deals to pay them in the event of a lockout, but we were able to put a freeze on that money because they did not negotiate in good faith and broke the law. And they had an internal NFL document that was leaked -- a decision tree -- that said smack dab in the middle of it 'financial needs in a lockout.' That was in 2008, OK? So you're telling me that they had no plans to lock us out and really wanted to get a deal done? I don't think so."

He went on.

"Their philosophy was, We're going to give you a very subpar deal, a slap-in-the-face deal, and hope that you'll accept it because hopefully we've intimidated you enough into thinking that this is a take-it-or-leave-it deal, and you're just going to succumb to the pressure," he said. "Well, guess what. We're a lot more informed and educated than in the past, and we're much better businessmen than you think and we're going to stand up for what is right and what is fair. Fifty-fifty is fair. It's been fair for the last 20 years and I think the game has done pretty well over the last 20 years. I think franchise values have gone up at a pretty good rate over the last 20 years. So you can't sit here and tell me that the system is broken."

For more NFL news, rumors and analysis, follow @cbssportsnfl on Twitter and subscribe to our RSS Feed.