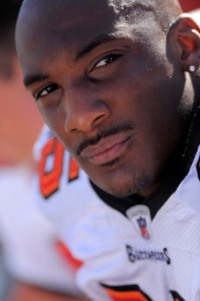 Posted by Josh Katzowitz
New Eye on Football blogger Ryan Wilson
wrote about this
Thursday, and now it's officially confirmed:
Buccaneers
CB
Aqib Talib
was indicted today by a Dallas County grand jury on a charge of aggravated assault with a deadly weapon.
By now, you should know that Talib
allegedly got into a confrontation
with his sister's boyfriend and then, along with his mother, fired gunshots at the boyfriend as he fled the scene in Garland, Texas on March 21.
"He's been indicted," Talib's lawyer, Frank Perez, said in a text message to the
St. Petersburg Times.
"Yes, I'm disappointed, but I believe once all the facts are out, it will be resolved in Aqib's favor.''
The grand jury was presented with the evidence by prosecutors on Wednesday, and it only took the jurors two days to send in their indictment.
Talib is on record as adamantly declaring
he's an innocent man
and that
his mother was the one
actually doing the shooting.
UPDATED 2:34 p.m. ET:
Jay Reisinger, another of Talib's lawyers, made sure to let us know that the indictment has no bearing on Talib's guilt or innocence.
"It is important to note that the indictment is merely a formal accusation and that Mr. Talib has not been convicted of any crime with respect to this matter," Reisinger wrote in an e-mail to the
Tampa Tribune.
"The grand jury was not privy to a number of important facts. We are very confident that once we have the opportunity to present all of the facts, this matter will be resolved in Mr. Talib's favor. Aqib looks forward to putting this matter behind him and returning to the game of football."
For more NFL news, rumors and analysis, follow @cbssportsnfl on Twitter and subscribe to our RSS Feed.