Posted by Andy Benoit
On Friday, Bucs cornerback
Aqib Talib
was
officially indicted
by a grand jury on aggravated assault with a deadly weapon.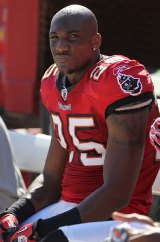 His mother was also indicted.
In an affidavit obtained by Rick Stroud of the
St. Petersburg Times
, it's revealed that Talib's mother told police in an interview that "it could have been Aqib" who fired the handgun in the dispute with his sister's boyfriend.
Stroud writes:
"Police say that Talib pointed a 9mm handgun at the head of Shannon Billings, the live-in boyfriend of his sister, Saran Talib. He then attempted to pistol-whip Billings before the gun was lost in the struggle, striking a fence and jamming.
That's when police say Talib's mother, Okolo, arrived at the scene and fired several shots at Billings with a .380-caliber Ruger. At some point, Aqib Talib gained possession of his mother's gun and fired two shots at Billings, according to documents released Friday. None of the shots hit Billings."
A conviction could carry up to 20 years in prison. Talib, 25, has been working out with his Buccaneer teammates during this offseason. His time with the organization, however, could come to an abrupt end after the lockout. It's also possible (even likely) that he'll be subject to a league-issued suspension as a repeat offender of the personal conduct policy.
For more NFL news, rumors and analysis, follow @cbssportsnfl on Twitter and subscribe to our
RSS Feed
.