Posted by Andy Benoit
In an article by
Jarrett Bell of USA Today
,
Dolphins
owner Stephen Ross recently made some comments about the lockout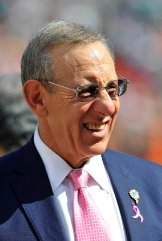 that has garnered some reactions from columnists. Ross purchased the Dolphins for $1.1 billion in 2008 knowing that a labor fight was on the horizon.
"The emotions of wanting to own a team were greater than the fact that this might be coming," Ross said of his purchase. "You always figured that something like this, you know, it's going to get resolved. It's a question of when. Hopefully it will be sooner rather than later." On the surface, this sounds like Ross could be dealing with a hint of buyer's remorse. But more likely, Ross is making the point that, as an owner, he doesn't like the lockout, but he sees it as a necessary step at the moment.
"Who the hell wants to own a team and not play?" he said. "It's about having a system that works. It's not about a bunch of greedy owners. It's a bunch of players looking to see how much they can really get."
In his New York real estate business, Ross' firm, Reliant, is negotiating with several unions about construction on the Time Warner Center on Sixth Avenue. But the negotiations with what still amounts to the NFL players union (currently decertified), he says, are different.
"[At Reliant] we negotiate with unions all the time, and there are issues there," Ross said. "But they're not the same types of issues. When you're dealing with guys earning over $1 million a year — the average salary is, what, $1.87 million? — you're not talking about the same kind of labor issues. Are these really labor issues? These are not labor issues.
"There should be no sympathy in the labor movement in America for these ballplayers. It's a different deal."
For more NFL news, rumors and analysis, follow @cbssportsnfl on Twitter and subscribe to our RSS Feed.