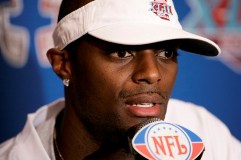 Posted by Ryan Wilson
Plaxico Burress will be released from prison on June 6 after serving more than 20 months for, well, accidentally shooting himself in the leg at a Manhattan nightclub in November 2008. The punishment may not have fit the crime, but New York City Mayor Michael Bloomberg wanted to make an example out of Burress, presumably to serve as a warning to others who might consider carrying a loaded weapon in public (or shooting themselves with it, for that matter).
At the time,
Bloomberg was clear
: "I don't think that anybody should be exempt from [three-and-a-half years behind bars for illegally carrying a loaded handgun]. And I think it would be an outrage if we don't prosecute to the fullest extent of the law."
Now, almost two years later, Burress will finally get his release. For most inmates about to earn their freedom, the biggest concerns about life on the outside often include finding gainful employment and staying out of trouble. The latter is linked to the former, so landing a job is paramount. Which brings us to this: What will the NFL market be for Burress' services once the lockout is resolved?
First, some background: Burress last caught a pass in an NFL game on November 16, 2008. Still with the
Giants
, and less than a year removed from a Super Bowl title, Burress had just three receptions for 47 yards against the
Ravens
before a hamstring injury forced him to the sidelines, and a few days later, a self-inflicted gunshot wound changed his life. The next time Burress suits up in an NFL game he will be 34, the age most players begin their transition to life after football.
So the dilemma facing potential suitors goes something like this:
After more than 20 months behind bars, does Burress have anything left?
How would he fit in with new coaches/teammates/scheme?
Will he stay out of trouble?
All questions NFL front offices will undoubtedly consider, and a few of them will be ready to sign Burress once we have a 2011 season. In today's "Monday Morning Quarterback" column,
Sports Illustrated
's Peter King
lists his early front runners
.
"I think [Burress will] have two or three teams very interested. My guess is the
Jets
,
Eagles
and
Raiders
will be involved (the Jets if they don't sign
Randy Moss
), and I'll tell you a team that should be interested: Cleveland. A reborn Burress would do a good job giving
Colt McCoy
a threat he doesn't have right now -- if Burress is in shape and as interested in resuming his career as I've heard."
The Jets have proven time and again that they are unafraid to hitch their wagon to players with baggage (apparently, there's plenty of room on the wagon for both).
Santonio Holmes
,
Antonio Cromartie
and
Braylon Edwards
are the most recent examples, and they helped the Jets to their second consecutive AFC Championship Game appearance last January. Coach Rex Ryan and general manager Mike Tannenbaum know what they're doing.
There is also the possibility that Edwards and Holmes could be lost via free agency should there be a season. That explains the interest in Randy Moss, although neither Moss nor Burress offer
Mark Sanchez
quite the dynamism that Edwards and Holmes provided a year ago.
Eagles quarterback
Michael Vick
, intimately familiar with incarceration and second chances, appeared on Philadelphia's WIP last week and said that
he'd love to have Burress on his team
.
"Absolutely -- it would be a great addition for our team," said Vick, according to SportsRadioInterview.com. "With the guys we have now, I think we can fit him in and make it work. Obviously, the ultimate goal is to put that ring on your finger at the end of the year.
"I think certainly Plaxico is going to come out with a chip on his shoulder the same way I did, and he'll go out and help this football team to whatever capacity he can. I think the guys would be willing to embrace him and bring him in. If that happens, who knows? We talking about 'what ifs' now? It would certainly be a good thing."
Assuming Burress could recapture his past form, it would give the Eagles a third legitimate wideout after
DeSean Jackson
and
Jeremy Maclin
(not to mention tight end
Brent Celek
). There's also a running game featuring
LeSean McCoy
and Vick, an offensive line bolstered by first-round pick
Danny Watkins
, and an already-explosive offense suddenly seems more dangerous. And let's be honest, if anybody can relate to what Burress has been through, it's Vick.
King also mentions the
Browns
, a team mired in futility, and on its fourth coach since 2004. The organization hired Mike Holmgren as team president in 2010 to turn things around. He drafted quarterback Colt McCoy, who played better than anyone expected as a rookie, and added wide receiver
Greg Little
in April. Still, Cleveland is in need of a big-play, pass-catching threat;
Josh Cribbs
isn't quite there and Burress could be an attractive short-term solution while McCoy and his young offensive teammates gain experience.
Whether Burress has any interest in going to the Browns is a different matter entirely, although Ron Cook, a columnist for the
Pittsburgh Post-Gazette
, thinks the
Steelers
should give Burress a look. Pittsburgh drafted Burress in the first round of the 2000 draft, and he was then-rookie quarterback
Ben Roethlisberger
's favorite target in 2004. The Steelers chose not to re-sign him after his contract expired following the season, and Burress ended up with the Giants, where he won a Super Bowl in 2008.
This is just a hunch, but the Steelers will have no interest in Burress; they currently have a depth chart full of quality young receivers to go along with veteran
Hines Ward
. If they take a chance on any 6-4 wideout, it will be
Limas Sweed
, their 2008 second-round pick who has battled injuries and drops in an unexceptional three-year career.
For more NFL news, rumors and analysis, follow

@cbssportsnfl

on Twitter and subscribe to our

RSS Feed
.